Mahabharat Cast: The great Indian epic, Mahabharat was first televised into a series in 1988. Since then adaptations of the epic has been done, the recent one being from 16th September 2013 to 16th August 2014. it had been quite popular with a new generation of actors at the cost.
Mahabharat Serial was commercially successful and garnered a record 8.4 million viewership on its premiere night. All of its 267 episodes kept the audience hooked, even when they knew what the outcome of the series was.
The entire cast became famous, and for most of them, this series became the most successful project of their career.
One of the most expensive TV shows made, Mahabharat was so popular that it was further dubbed into 6 regional languages and was even broadcast in Indonesia & Thailand.
But the audience has always wondered about their life outside the show. So, here we are presenting the Mahabharat Serial Cast & Characters of their Real Life Avatars.
Star Plus Serial Mahabharat Cast-
Rohit Bhardwaj played the role of Yudhisthir, the eldest Pandav brother in Mahabharat. Before this, he had worked in Iqbal, Ranbir Rano, Bat Hamari Pakki Hai and Na Bole Tum Na Maine Kuch Kaha as an Actors. He has directed five episodes of Adalat.
Star Plus Mahabharat Cast – Arjun / Shaheer Shaikh
The lawyer turned TV actor, Shaheer Shaik stole hearts with his role as Dev Dixit in ' Kuch Rang Pyar Ke Aise Bhi Hai'.
The actor who is currently seen in the TV serial Yeh Ristey Hai Pyar Ke however was first noticed when he played warrior Arjuna in Mahabharat.
Star Plus Mahabharat Cast: Karan / Aham Sharma
Widely known for his role as Karna, the ruggedly handsome TV actor Aham Sharma is an engineer and was positioned 27th on the 50 sexiest Asian Men List in 2014.
He made his television debut with Chand Ke Paar Chalo. Apart from these Aham has worked in C.I.D., Yaariya, Karle Pyaar Karle, Asman Se Aage, Manmarziyan, Bharatvarsh and Brahmarakshas: Jaag Utha Shaitaan.
Star Plus Mahabharat Cast:  Bheema / Saurav Gurjar
Saurav Gurjar played the role of Bheema, the second Pandav brother in Mahabharat. He has started his career as a wrestler in Ring Ka King.
Soon after that, he started in Mahabharat. Later he went on to work in Prithvi Vallabh: Itihaas Bhi, Rahasya Bhi, Sankar Morcha Mahabali Hanumaan and WWE NXT.
His upcoming appearance will be in the 2021 movie, Brahmastra.
Mahabharat Star Plus Cast: Krishna / Saurabh Raj Jain
Saurabh Raj Jain essayed the role of Lord Krishan in the new Mahabharat. He made his debut as a supporting actor in Remix.
He made his debut as a supporting actor in Remix. However, he seems to have come a long way from their working in popular Indian television serials like Devo Ke Dev……Mahadev, Mahakali- Anth Hi Aarambhi Hai, OM Namo Venkatesaya, Savhdhan India: Punjab Fight Back Now, Jai Shri Krishna, Uttaran, Parichay: Nayee Zindagi Kay Sapno Ka, Ek Thi Naayka and Patiala Babes.
Cast Mahabharat – Ashwatthama / Ankit Mohan
Ankit Mohan found fame when he was seen as one of the participates in the MTV show Roadies in 2006. The handsome hunk is now part of the Color TV serial Naagin 3.
Mahabharat Serial Cast: Nakul / Vin Rana
Vin Rana featured as Nakul in the Mahabharat. He made his television debut in Ek Hasina Thi. After Mahabharat, he worked in Kundali Bhagya, Kumkum Bhagya and Kavach… Kaali Shaktiyon Se.
Star Plus Mahabhar Cast : Draupadi / Pooja Sharma
Pooja Sharma starred as Draupadi in the new version of Mahabharat on Star Plus. She had made her TV debut in Teri Meri Love Stories alongside Shaheer Sheikh soon after which she was cast in Mahabharat.
However, since then she acted in Serials like Karmaphal Daata Shani, Porus, Mahakaali- Anth Hi Aarambh Hai and Chandragupt Maurya.
Mahabharat Star Cast – Amba / Ratan Rajput
The actress who played Princess Amba became a household name with the TV serials Angle Janam Mohe Bitya Hi Kijo and was later seen doing reality TV shows 'Big Boss' & 'Ratan Ka Rishta'
Mahabharat All Cast –  Dutyodhan / Arpit Ranka
Arpit Ranka played the role of eldest Kaurav's brother Duryodhan. After Mahabharat was seen on TV shows like Mahabali Hanuman and Radha Krishna. He was happy to keep his character in good light and hot make it a completely negative one, as seen in the earlier version of the epic.
Star Plus Cast Mahabharat – Bhishma / Arav Chaudhary
The legendary Mahabharat character of Bhishma was played by Arav Chaudhary. He was worked in both films and television and started the career with the television series Captain Vyon and Dhadkan.
Since then he has worked in Aim, Dhoom, Zindagi Ka Har Rang……Gulaal, B.A Pass 2, Wanna Have Good Time 2, Ek Baar Phir, Houseful 3, Iss Pyar Ko Kya Naam Doon? Ek Baar Phir, Right Yaa Wrong, Zhaansi Ki Rani Laxmibai and Regards & Peace.
Mahabhart Serial Cast – Shakuni / Praneet Bhatt
Praneet Bhatt played the role of Shakuni, who has lived and died for his sister, Gandhuri. Praneet Bhatt who hails from Srinagar has won accolades for his acting and strong dialogue delivery.
He played one of the most challenging characters from the epic, Shakuni. At the same time, he played this character in a good way. In the negative role, Praneet acts like a willing artist.
He has also worked in the Software company Wipro. But after leaving the job, he entered the world of acting and modelling.
He started his career with the TV show Kitni Mast Hai Zindagi. After this he appeared in shoes like Kajal, Geet, Big Boss 8, Geet, Trideviyan, Meri Damn Biwi, Aladdin, and Razia Sultan.
Thakur Anoop Singh Cast in Mahabharat
Thakur Anoop Singh who was first seen in the television series, 'Mahabbharat' opens up about his decision to make the big move of changing his look drastically.
The handsome actor says that change was much-needed and that he wanted to make a breakthrough in the new your of 2021.
The actor who'll be next seen in the Hindi and Telugu film, 'Khilaadi', who rocking the short-haired look in this new venture.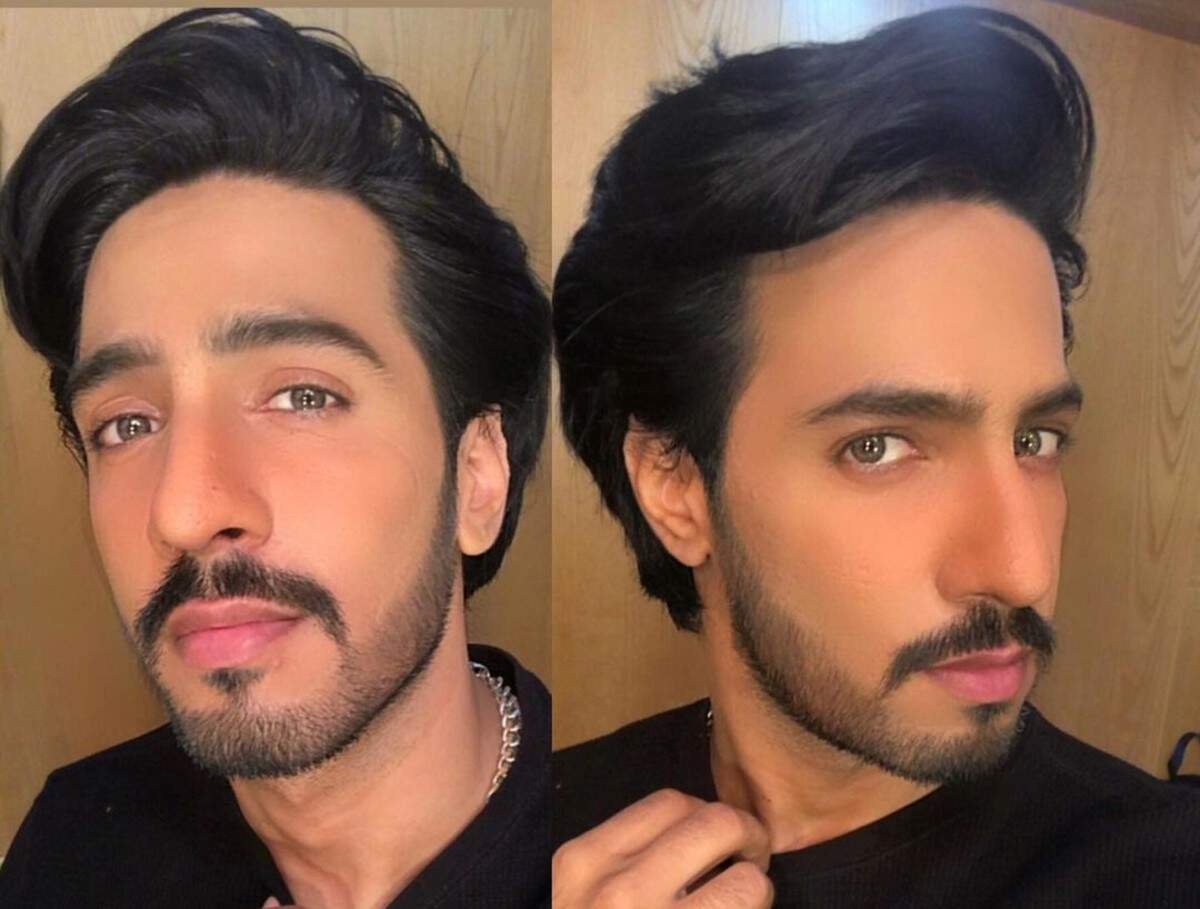 The Cast of Mahabharat – Shikhandini / Shikha Singh
Brave warrior Shikhandini was played by TV actress Shikha Singh. She started her career in the television industry with Left Right Left and is currently seen playing the main antagonist, Alia Mehra in a Popular TV serial Kumkum Bhagya.
Mahabharat Star Plus Cast – Shiva / Mohit Rana
TV actor and heartthrob Mohit Raina who played Shiva in the mythological series was a model before starting his acting career.
He recently made his Bollywood debut in military drama, URI: The Surgical Strikes.
Child Star Cast of Mahabharat Serial on Star Plus – Young Dushala / Ashnoor Kaur
Ashoor Kaur Played the role of Dushala, the sister if Duryodhan and she had played quite many character-driven roles at the tender age that she is in. The girl who came into the limelight with Zee TV's Jhansi Ki Rani went on to play the young Shobha in the same channel Shobha Somnath Ki.
As the little Nanhi of Colors Na Bole Tum Na Maine Kuch Kaha Season 1, Ashok Sundari in Like OK's Devon Ke Dev …. Mahadev and the young Durga in Color's Jai Jag Janani Maa Durga.
Star Plus Serial Mahabharat Cast -Satyavati / Sayantani Ghosh
TV Actress Sayantani Ghosh who played the role of the emperor's wife, Satyavati is a model and a Dancer. She is also well known for her TV serials Naamkaran and Naagin.
Mahabharat Star Plus Serial Cast – Kunti / Shafak Naaz
Shafak Naaz played the role in Mahabharat Kunti. She belongs to a Muslim family. Shafak has done dozens of serials in the world of television and is famous for the TV shows Chidiya Ghar, Kulfi Kumar Bajewala, Mahakali: Anth hi Aarambh hai.
Shafak also appeared in the film "Guest in London" in 2017. In which she played the role of Sheri.
Mahabharat Serial Cast – Dronacharya / Nissar Khan
Nissar Khan played the role of  Dronacharya in Star Plus Mahabharat. One of the successful serials of Nissar Khan is Crime Petrol.
Nissar Khan is one of the strongest pillars of the success of the Crime Patrol. He has roped in more than 100 episodes till now and most of his episodes have become benchmarks.
Apart from Mahabharat and Crime Petrol, this actor can all be seen in a few other TV shows and various movies as well. Apart from TV serials, he played a friends role in Akshay Kumar's Airlift and a cop in RGV's Veerappan an important role in Ajay Devgan's Tanhaji as well.
Other Actors from Mahabharat Cast
Dushasan – Nirbhay Wadhwa
Subhadra – Vibha Anand
Gandhari – Riya Deepsi
Read this :
Harbhajan Singh Movie Download
Tamilrockers Movie Download 2020-2021
Down YouTube Thumbnail Just in One Click 
Mahabharat Trailer
Conclusion – How did you like this article of Mahabharat Cast, Mahabharat Serial Cast, Mahabharat Star Plus Cast. You must tell by commenting in the comment box below. Or if you want to give some kind of suggestion, you can share your opinion with us in the comment box below.